Adult Education Programme:
Area of Operation: DistrictJabalpur
Objectives:
To create a positive Environment for adult learners.

To increasing enrolment in night & Extra classes.

Selecting tools, techniques and the methods of easy learning.

Strengthening of adult (night classes).

To generate health awareness and create aesthetically satisfying healthy environment for learning.
Approach:
Establishment night school for adult persons

Group meeting with local community for aware education

Film show on importance of education

Street play by local community

Use participatory methods for teaching to adult persons
Target Population: 70 Youth Group of 43 Villages
Population Covered: 32,603
Monitoring agency: Jay Bharti Shiksha Kendra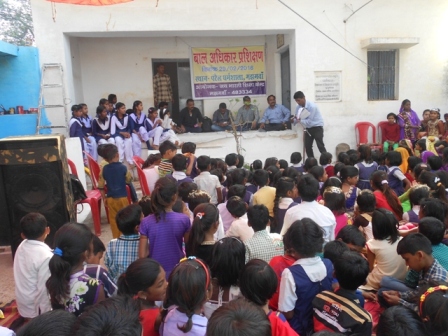 Impact Assessment:
Increasing enrolment in adult education (Night Classes)

Community aware about importance of education

Community supported to adult education program.
Skill development program (VTP) under Youth Welfare Program
Area of Operation: Jabalpur District
Objectives:
To increase the knowledge of computer in rural youth & student

To increase interest of computer in rural youth

To briefed the introduction of computer technology in beneficiaries.

To organized the 90 Days computer awareness program in rural area.

To provide knowledge through participatory and innovative methods.

To provide Practical skills to beneficiaries.
Target Population: 122 rural Youth group
Population Covered: 44,576
Monitoring agency: JBSK
Impact Assessment: Certificate in all courses Increase knowledge of baneberries about computer and its technologies